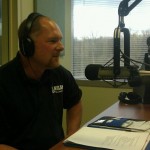 Ken Nelson founded Nelson Tree Service in 1992 after working in utility line clearance. He found that the practice of just cutting trees was not enough, but there was a way to trim a tree so as not to promote unwanted growth, and not harm the tree. His passion fueled his desire to become a Certified Arborist, and he quickly grew a customer base from his side work that justified starting his own company. Nelson Tree Service is still a family owned business, and the commitment is still in proper tree care practices. We are continuously striving to serve our customers in all aspects of tree care, and always look for new and better ways to do so.
Our Philosophy:It's Simple: Better Service, Better Quality, Better Value.​
At Nelson Tree Service, we value your patronage. We are dedicated to maintaining the health of your trees as well as the value of your home and landscape. We believe that proper plant health care is part of an overall landscape plan.
We strive to educate our customers in the best practices, to provide outstanding tree service, and provide you with eco-friendly solutions. Offering more than tree trimming and removal, we are your Full Service Plant Health Care Solution!
​Our Goal:
To help you and your trees coexist in an ever changing environment. We offer an extensive line of services to help you achieve this.